Meet CAEP Cultural Exchange Participant Hong Pham Le from Vietnam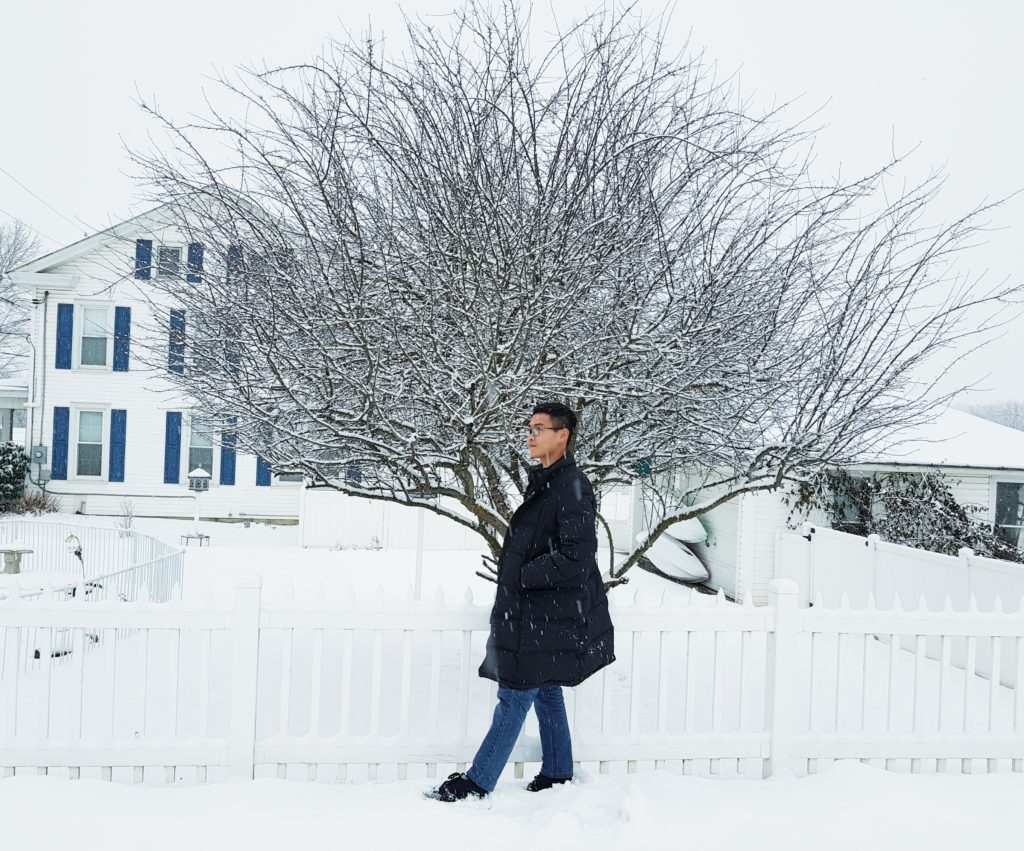 "I love agriculture! I was motivated to come to the USA to learn more about greenhouses along with gaining new experiences, knowledge of agriculture, international friends, and to travel around the USA.
I am training at Kurt Weiss Greenhouses in Pennsylvania where I live with other trainees from the Philippines, Haiti, and Uganda. There is another house of interns who are from Tanzania, Rwanda, and Colombia. It is a little international community here! My host is very kind and nice because she always will take care of us and give us advice which helps make adjusting to life in the USA easier for us. She motivates me a lot!
I feel so lucky because I was able to come to the USA right before Christmas time. I was able to participate in the Christmas party with my host and all of the greenhouse members. We had fun dancing, singing, and playing games. That's one of my best memories, absolutely! Another happy experience was when I participated in a camping event called  Young Adult Winter Retreat in Mifflinburg, PA. I camped for three days and two nights and had a great time dancing, singing, playing games, studying the Bible, and getting to know other Americans who also attended.
Although, my favorite experience in the United States by far has been the snow. I live in the southern part of Vietnam where we have just two seasons; dry and rain. I have had the best time playing with snow, making snowmen, and taking photos!
There are have been many things that have surprised me during my CAEP experience. For instance, I have learned that Americans are very helpful and nice. My new American friends are so kind as they always invite me to their houses, even on holidays! They also took us to the mall, to Church, and the store. My English isn't the best, but I consider this to be the best time to improve my English proficiency before going back to Vietnam. I also love eating vegetables back in Vietnam, but the prices in the USA are not cheap! So, that is why I'm eating the American way now. I'm in love with the Mac and Cheese and mashed potatoes! I have lots of new friends in America from a variety of countries such as Puerto Rico, Honduras, Dominican Republic, South Korea, Jamaica, China, and America.
To be honest, I am an introvert so meeting new people and traveling to a new place has been difficult for me. But I am changing gradually due to the culture in the USA. I am more active, smiling all the time, waving from far away, shaking hands or hugging, greeting people all the time, and asking questions to keep the conversation going on. I am going to grow in a positive way during my CAEP experience!
Management is the top skill that I have learned while training with my host. Back in my home country, farmers practice conventional farming which is totally different than the greenhouse in the USA. The greenhouses here have drip irrigation and automatic systems.
I have already recommended the CAEP program to my friends because it's very good for those who would like to experience travel and make new friends! I have had a great opportunity to travel and learn new things to enrich my horizons!"