27 Years and 6,000 Miles Later, CAEP Alumni Trainee and Host Family Reunite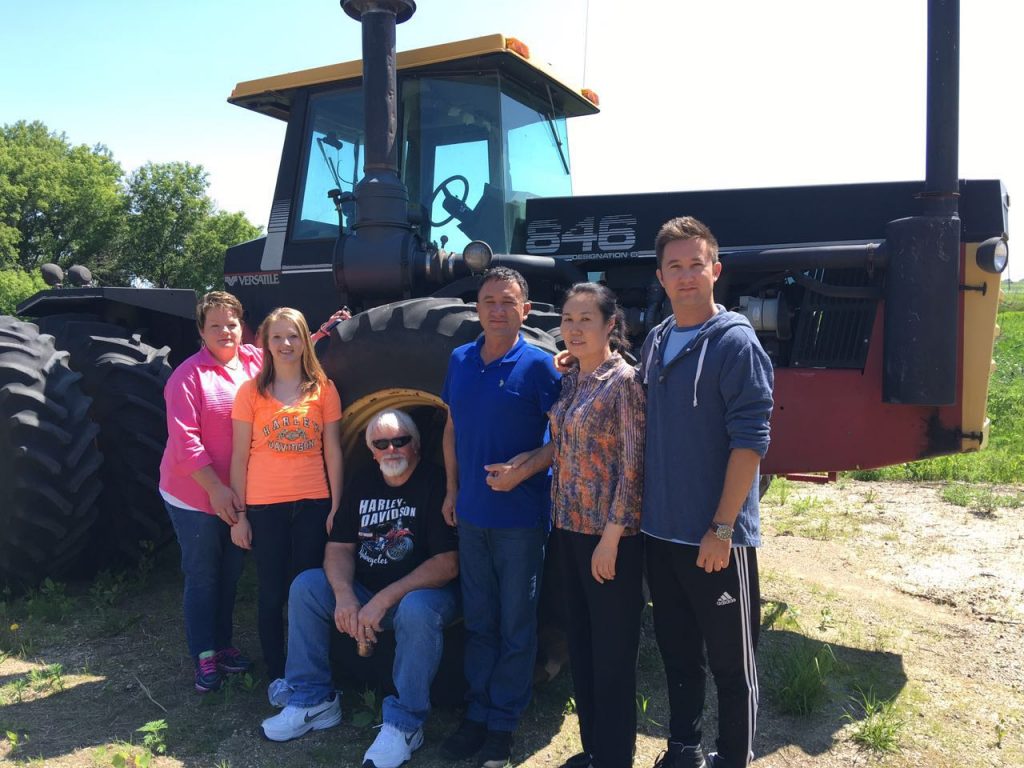 Ray, a dairy farmer from Hotan, China, has dreamed for him and his family to visit the United States and reconnect with his hosts, Dean and Cindy ever since his life-changing experience on their farm. This past June, Ray, wife Marigold and son Aikeremu had an incredible reunion on the Minnesota dairy farm Ray had trained at during his CAEP agriculture program in 1989.
"I am from a small village in Eastern China, totally different than here. It is very dry and desert like. I am the first guy to come to America from my area, and I am the first guy to speak English," Ray shared.
"In the United States, everything was new to me when I first arrived in 1989. At first, I was really hungry since the food was so different," Ray chuckled.  "And I really didn't like to eat pizza or hamburgers. But then my hosts, Dean and Cindy cooked me spaghetti and meatballs and I almost cried. It was so good. When I stayed with Dean and Cindy at their home on the farm, they treated me just like family, just like a son.
Before I came to the United States, I was working in an office doing paperwork. I was picked to come to the United States as I wanted to improve my English so I could get a better a job in China.
To make a long story short, what I learned here was exactly what people in China say: 'American people are rich and they have good technical everything'.  Although- when I got to the United States, I then understood why you guys are rich because of the way you work- and I saw that with Dean my host. Even though the irrigation and the climate is different in China, I learned a lot about working and operating a farm during my time here.
In the first three months on the farm, it was hard for me. Every day was spent milking, milking, and milking. In China, I worked 6-7 hours a day and then I came to the United States and learned how to work like a farmer.  When I returned to China to start my own farm, I thought of my host Dean and Cindy every single day. It was not easy, especially since everyone second guessed my decision to leave my good desk job to start the farm. I now have grown the operation to 320 cows. I milk 200 cows a day in addition to pasteurizing and delivering the milk," Ray shared.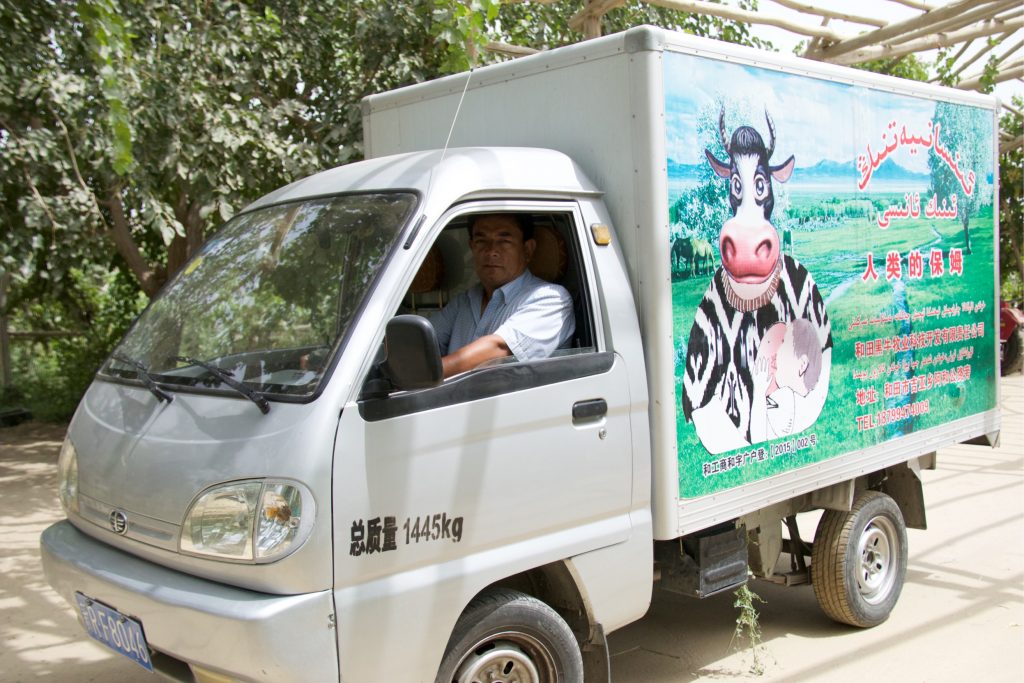 Ray has always dreamed for his children to spend time in the United States as he knew from his own experience they would learn and experience a great deal–the culture, the people, and the economy. Ray's son Aikeremu also shared similar experiences and surprises when it came to immersing with the American culture. "The culture, how people think, people's families. Everything- It just blew my mind,"Aikeremu shared. "I was surprised about work. For example, in China, we don't work when we go to school. But here, my classmates study and then they work. They work and study, work and study. I asked my classmates why everyone works, in addition going to school and they said their parents do not pay for their school unlike in China.  It really impressed me so I started to look for an internship to help me learn and experience more. Just like my dad, everyone keeps working every day,"Aikeremu shared.  During Aikeremu's time at the California University, he learned the motto "work hard, play hard." "The first three months I joined the play hard,"Aikeremu chuckled. "And after a while, I felt I played too hard, so I went back to the work hard. After my year in the United States, my English has improved greatly, I have great friends and I have learned to work– really hard. But actually–if you don't work hard, you don't have anything to play hard,"Aikeremu chuckled again.
Before Ray started his farm in 1989, there were no other farms in the area due to the dessert-like conditions. Actually, many people even said dairy cows couldn't survive in this area. But it was the techniques and skills Ray learned on his CAEP agriculture program that instilled him with the confidence he needed in order to be successful. Today, Ray is still the one and only dairy farm operating in his area making demand high and market prices for very expensive compared to prices in Western countries. One gallon of milk in China costs over $8 USD.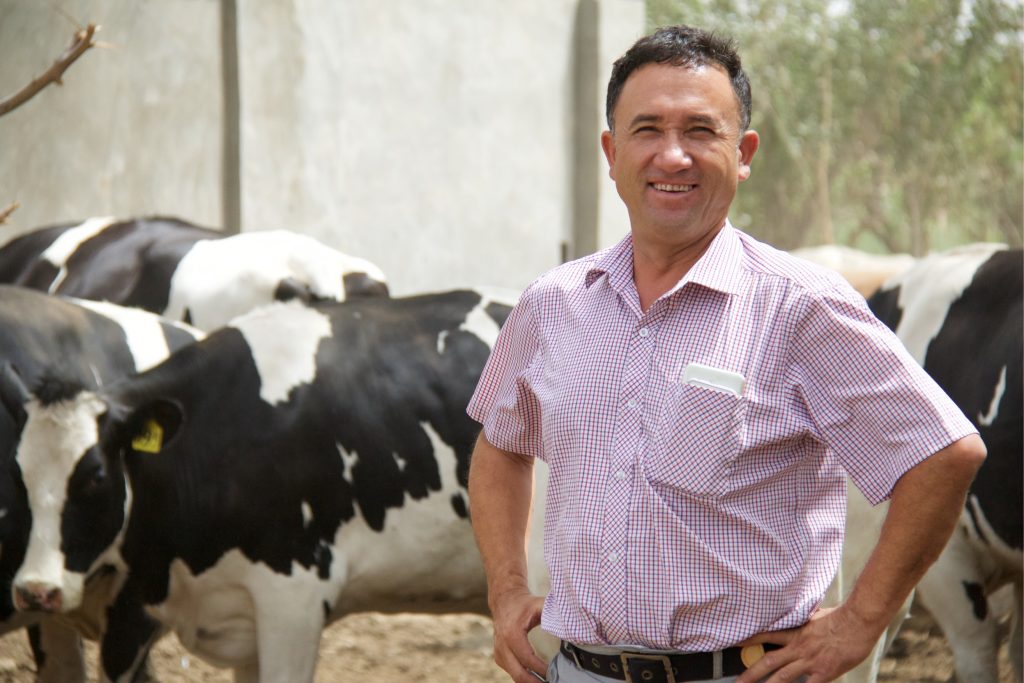 "When I returned to China and started my own business a few years later, I used to think of America often. And I really used to think of Dean and Cindy. I always told my family I was always going to come back to see them," Ray shared.  Today, Ray's son and daughter are both pursuing master's degrees at universities in the United States.
Ray was 27 when he first visited the United States in 1989 and now 27 years later, his 28-year-old son is experiencing life abroad just like he did.  "Before I left, my dad said to me, son, can you help me find my host family. He had told me so many stories about his host family, so I wrote an email to CAEP and they helped to connect us," Ray's son Aikeremu shared. "I was so surprised when Dean first called me. When he said this was Dean, I was like wow. This was the man that I had heard so many stories about. This was not only one of my dad's dreams to reconnect, but it was one of my dreams as well," Aikeremu shared.
Even though Ray was the first trainee on Cindy and Dean's dairy farm over 27 years ago, they felt an instant connection when they were first reunited in June. "As soon as we saw each other it felt like we were never apart–we felt like two long-lost friends," Dean shared.
"Americans helped me a lot when I was here during my CAEP program and now I am going to give back as much as I can," Ray said. "When I see an American tourist in China, I always walk up to them,  say hello and ask if they need help. Dean and Cindy were so nice and helpful to me and since I couldn't return the kindness to them in China, I now pay it forward to any American I see visiting and others in my community. I have also helped a few other families start businesses in my town."
To learn more about Communicating for Agriculture Exchange programs or how to become a host, please visit our website caep.org or email social@caep.org.