Meet CAEP Agriculture Trainee Clare Gibbs from Australia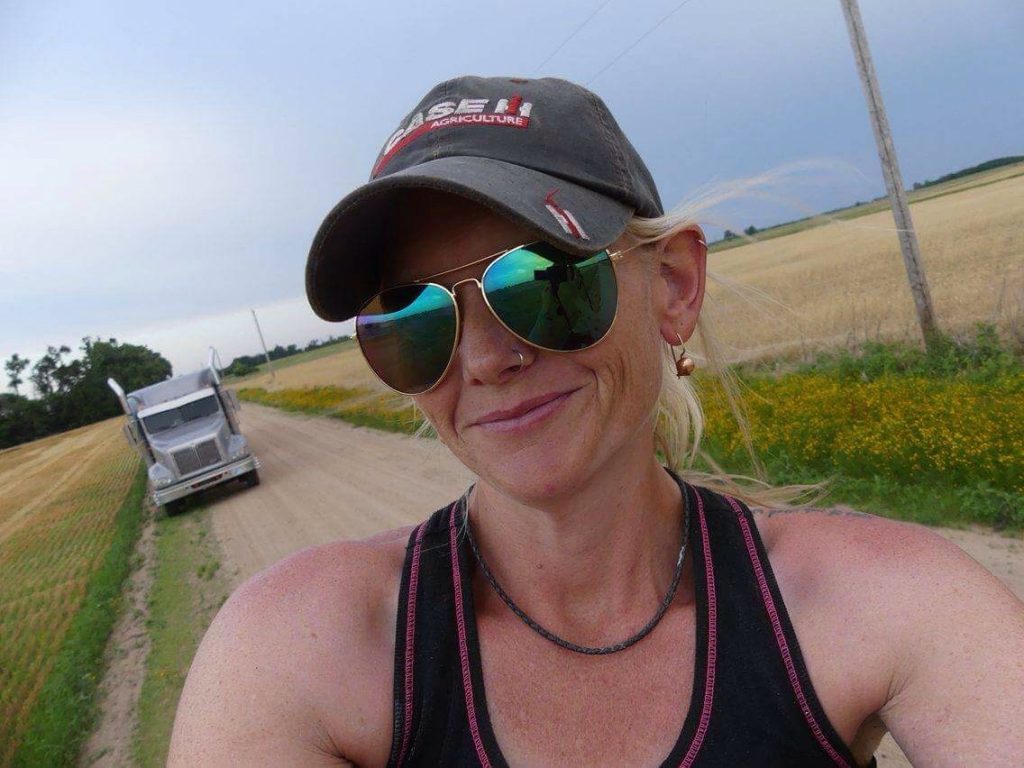 From Australia to America
"Farming has always been my life but I trained as a chef at home. Although, my heart has always been on the farm and that's what I want to do when I go back home. I worked for my dad running a combine back home in Australia and really loved it. I wanted to challenge myself and the idea was born to come to America to do the harvest trail here. I am training at Green Acres Enterprises as a custom harvester. So far we have traveled to Kansas, South Dakota, to Texas to pick up equipment and have moved all the way to the northern border of North Dakota.
My Hosts
My hosts David and Vereena Misener operate their family custom harvester company. They have 4 kids who come on the road with us for the harvest season. They are based out of Elk City, Oklahoma. David has taught me a lot about the mechanics of the machines we are running and also small things like welding, using a grinder, and also the oxy torch to cut through metal. I have learned so much from the program that I will be able to take home to apply on the farm in Australia. Our machines are slightly different but the principle is still the same. Some of the most valuable lessons and skills I have learned working with my host is to ask for help when you need it, that girls can do the same work as boys when it comes to farming especially as we may look at a problem different and find a better solution to that problem. David has taught me how to use power tools that the boys back home didn't have time to show me.
Custom Combining
A typical day involved getting up at 6:30 am for breakfast, then we do maintenance work on the combines before we start refueling, blowing out the air filters, greasing the machines and the headers, and checking the machines for any problems like loose belts or chains. Once we get going it's usually at least nine hours of driving. At the end of the day or when we have finished for the night, we have to clean the machines down again making sure they are ready to go again for the next day. During the day we have at least two meals together with our host family. We always have breakfast together and supper is usually brought to us out in the field
We also do custom work for other farmers when we aren't combining so we are often fixing broken machines or making alterations to existing ones.
Life on the Road in the United States
I live in a camper with another girl from Germany while we are on the road custom combining. Living with my roommate Katja has been an amazing memory. She is an amazing person, best friend and like a sister. When I have a bad day she is always there for me and I am there for her. It's been amazing to go on this journey with her. At the end of the day, I am tired but proud of what I have achieved. My roommate and I have a high five system that we give each other when we achieve something and if we aren't there to give each other high fives, we give ourselves a high five and a pat on the back.
My favorite experience so far in the United States is driving the combine. Although, the people I have met along the way will be with me for the rest of my life. My favorite part of the United States is traveling to the small towns that most tourists wouldn't get to see. The people have been amazing and I have made friends that I will definitely keep in contact with. The food also has been great. I love American BBQ but can't wait to try different stuff when I'm finished working. Every farmer I have met with so far could not have been any more helpful. They are so pleased to see a woman working in the farming industry. I'm looking forward to going to some museums as well to learn about American history.
What is Farming Like in Australia Compared to Farming in the United States of America?
Farming is about the same at home than in America, although operations in America are on a larger scale but the process is the same. We don't spray our crops off in Australia before harvest but our climate is different so they dry naturally on their own.
 The CAEP Program
I would tell someone considering the program to absolutely do it. It's the opportunity of a lifetime and the people you meet along the way will be friends for life. Enjoy every minute of the program it seems surreal sometimes. It is the best thing I ever did and far better than just coming over for a holiday. I don't think there would be anything I could suggest for improvement on the program. I'm getting everything and more out of what I wanted to learn while I'm here. You get to work and travel– what more could you want.
Clare and Katja were recently featured in the High Plains Midwest Journal. Check their story out by following the link