Meet CAEP Horticulture Trainee, John Irvin Managaytay from the Philippines
A graduate of Bataan Peninsula State University, John knew a CAEP program was for him as he wanted to learn more about modern agricultural practices that he could take home and apply in his home country. He als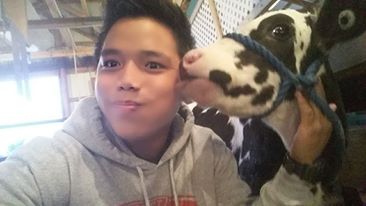 o saw CAEP as a stepping stone to a graduate program in horticulture. Read more about John's international horticulture experience below:
"I am actually an animal science major but since I already have knowledge in animal science, I wanted to learn more about horticulture. I am now training at Todd Greiner Farms in Michigan. I live in a housing unit provided by my host in Hart, Michigan and I live with two other Filipinos; Gerald and Jefferson, and two Ugandans; Paul and Robert.
Todd Greiner Farms is actually a rapidly growing company that is family owned. They are committed to providing quality produce all while maintaining a good relationship with their customers. I learned a lot from my host, especially from Don Smith my supervisor. I see my host as not too strict, but yet they have built and gained respect from their people which is a great characteristic of running a business.
I have acquired ideas and knowledge from Don every time we work together. I always ask him about this and about that and he always gives me satisfying answers. He has inspired me to start a horticulture business in my country.
During the summer, our host brought us to lake Michigan and took us to beaches and lighthouses. I am planning to travel to California before I return to the Philippines.
During my time so far in the United States, I was surprised that I am not only developing my English I am now learning Spanish too. I have learned that Americans have great discipline and a good working attitude. America is a great nation with a great future.
I have personally benefited from my CAEP program because I earned money from my program that I am planning to use to start a business that is related to my program I am in. I also plan to use that money to pursue my education.
I definitely recommend the program. First off, you will learn more about horticulture by doing. You will also meet people that will help you improve your working attitude and you will have the opportunity to see different cultures. CAEP does great. They are easy to communicate with and ask for assistance. I would definitely recommend CAEP to my friends and family back home. I had a great experience and I want them to experience it too."