2nd Annual CAEP Fest Receives Special Visit from U.S. Department of State
Deputy Assistant Secretary of State Robin Lerner and program analyst Travis Parsley traveled from Washington, DC to attend CAEP Fest 2014 with trainees, hosts, and staff.  Over 80 trainees from 23 different countries and their hosts attended the second annual CAEP Fest near Stalker Lake, Minn., Friday, July 18-20. The weekend of festivities ran in conjunction with Ashby Appreciation Days and was complete with games, camping, music and cultural activities, including a special visit by the United States Department of State.
Ms. Lerner, who oversees the Department of State's J-1 Visa Exchange Program (EVP) visited with participants about the J-1 program and how their overall experience has been so far in the United States. "It was a pleasure to talk to Robin; she was very open and easy to talk to" said Dan Sitaru, a trainee from Romania.
 Deputy Assistant Secretary of State Robin Lerner with CAEP trainees from Romania and Ukraine.
Deputy Assistant Secretary Lerner and Program Analyst Travis Parsley are spending the summer on the road, meeting international exchange students and taking part in their cultural activities, including sports outings, meetings with town mayors, U.S. national parks visits, and summer festival experiences across the country.  The tour highlights the J-1 Exchange Visitor Program participants' interaction with Americans in dozens of communities throughout the United States.
During lunch in the park, CAEP participants and local community members took full advantage of the diverse mix of cultures by exchanging stories about one another, their families, farming, and life in the United States. Following lunch served by the Ashby Community Club, CAEP organized a game of "Around the World" trivia played by teams made up of trainees and local community members.
Ms. Lerner called CAEP's cultural activity with local community members "… a sweet mix!"
On Saturday evening, trainees had another chance to share more about their cultures during the Ashby Appreciation Days Parade. Crowds cheered all throughout the parade as trainees proudly waved their flags while playing music from their home countries.
Ms. Lerner shared her experience from the parade on her blog stating "our exchange visitors love to share their culture- and their love of their flags!"
Trainees and staff then "danced the night away" at the Ashby street dance, hosted by the Ashby American Legion on Saturday night. Many trainees shared and taught dances from their home countries with the locals.
The grand prize drawing for a new Apple iPad took place on Sunday morning following the farewell breakfast. Congratulations to our Brazilian trainee, Bruno Pereira for being chosen as the CAEP grand prize winner!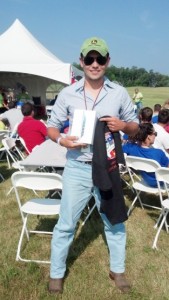 We are thrilled about another successful and exciting CAEP Fest, especially with the special visit from the United States Department of State.  Many new memories and life-long friendships were made at CAEP Fest 2014.
To view more photos and videos from the Fest, like us on facebook!
Thank you to the United States Department of State, KLN, Dale and Pat Trebesch, Randy and Sheri Swonger, Ashby American Legion, Ashby Community Club, Tony Kaske and to everyone who made CAEP Fest 2014 a fun and successful event!