It's a Derby Dream, Meet Equine Trainee Ian Wilson from South Africa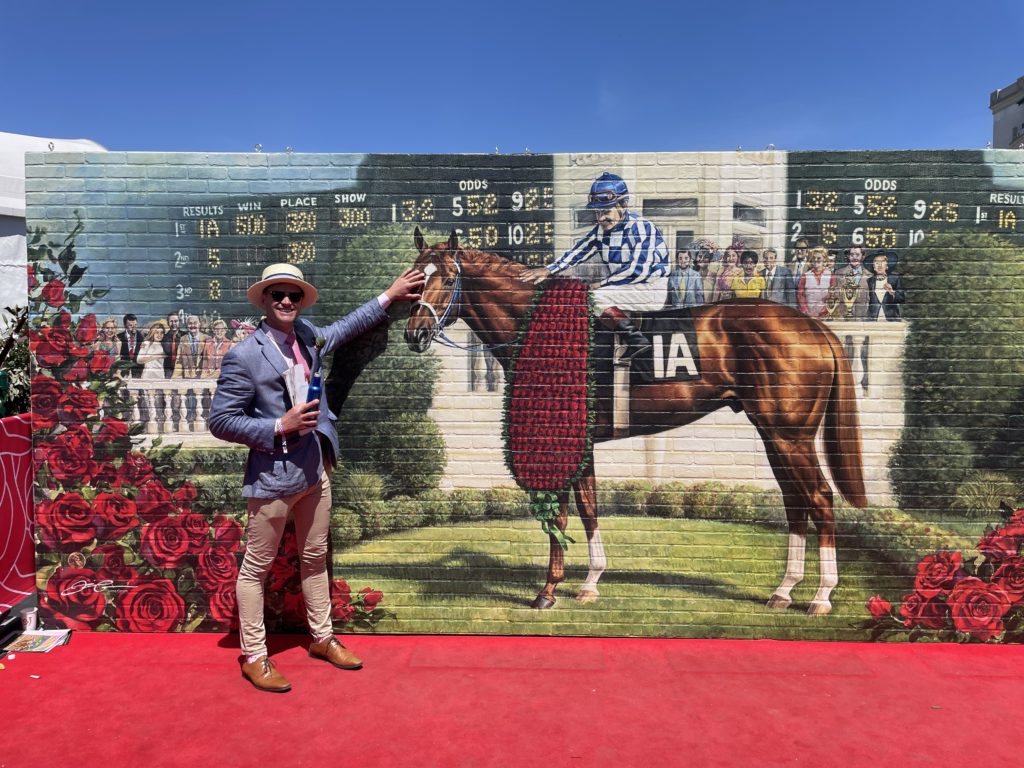 "I wanted to participate in the CAEP program because it has allowed me to chase my dream of breaking into the American thoroughbred industry, renowned for producing the world's best racehorses through three centuries of materialist selection," shared Ian.
"Being granted a student visa, the internship has provided both theory and practical aspects that have been the stepping stone needed to develop a career in the thoroughbred industry. This has been beneficial as one gains hands-on experience raising thoroughbreds, learning about their make-up, and how to manage them.
The opportunities in South Africa have been unavailable to me due to my inexperience, as well as the current recovery of the industry. Therefore, it has always been a struggle to forge my path, so I am pursuing the opportunity with CAEP, The Kentucky Equine Management Internship (KEMI), and Gainesway Farm.
My host farm, Gainesway Farm, in Lexington, Kentucky, is a thoroughbred stud farm that encompasses 1,500 acres of the finest Kentucky Bluegrass in the land through rich nutrient limestone soils contributing towards ideal optimum growth and health of thoroughbreds, making the farm the ideal conditions to produce and raise graded winners. They have made a huge impact on my career thus far as I am forwarded the opportunity to work and handle some of the best racehorses America has produced in recent years.
My horse handling skills and confidence has improved through handling stallions. I learned how to handle newborns, mature foals, yearlings, and broodmares. I have broadened my knowledge of pedigrees of American stallions and broodmares who have gone on to produce Graded winners, which have all been helping me work towards developing a career in the thoroughbred industry.
My daily duties include turning out mares and their foals into the field, stable duties, re-bedding stables, feeding and watering, grooming of mares, foals, and stallions, administering oral medicine, holding horses for the farrier, handling stallions as well as assisting during covers in the breeding shed and maintaining general barn tidiness.
My long-term goals are to own my own broodmare band and exposing myself to both the northern and southern hemisphere breeding seasons. I believe this will provide the knowledge and experience to select the best possible mares I can afford.
The Kentucky Derby was a life-changing experience. I was fortunate to attend the Kentucky Oaks on Friday, which is the female version of the Kentucky Derby run. Friday was the day Churchill Downs was a sea of pink in honor of the best three-year-old fillies, determining the best middle-distance performer of their generation. Churchill Downs hosted many other feature races on the day that either glued racegoers to their seats or had them sprinting to wager a few pennies on picks before each race. The Kentucky Oaks was won by Godolphin, owned and raced by Pretty Mischievous. Pretty Mischievous had won four of her six career starts with a second and a third to her name, making it a no-brainer to include her in all bets as she was never denied a cheque.
There is a saying that explains why racegoers love racehorses. Racehorses are not only good to look at; they allow us to dress up on Saturdays. On day two of the Kentucky Derby Festival, I attended the 149th edition of the Kentucky Derby with the Kentucky Equine Management Internship (KEMI) Spring Program class of 2023. It sure lived up to its expectations by attracting a few dozen more like-minded racegoers and Kentucky Derby bucket list enthusiasts. Enthusiasts from all over America came in all shades of dashing colors to scream home their Kentucky Derby hopeful winner. It was an incredible experience to see the Kentucky Derby participants in the parade ring before the race as I followed their qualifying races leading up to the Kentucky Derby.
The winner was a flashy chestnut colt named Mage, considered an outsider compared to many hopeful runners to win the race. He is a son of Hill n' Dale's up-and-coming sire Good Magic. There were many empty pocket punters with their hopefuls not coming into the money as their odds were lower to win the Kentucky Derby. Sometimes it is the horses that no one thinks much of that do the things no one can imagine. There is no race like the Kentucky Derby to prove the worth of that statement, and no statement better suited than for Mage.
CAEP has been important for my career because they have bridged the gap between South Africa and the American thoroughbred industry and provided the opportunity to follow my strong desire to develop a career in the thoroughbred industry."