Meet Agriculture Trainee Alum Pedro Henrique Maruchi Peres from Brazil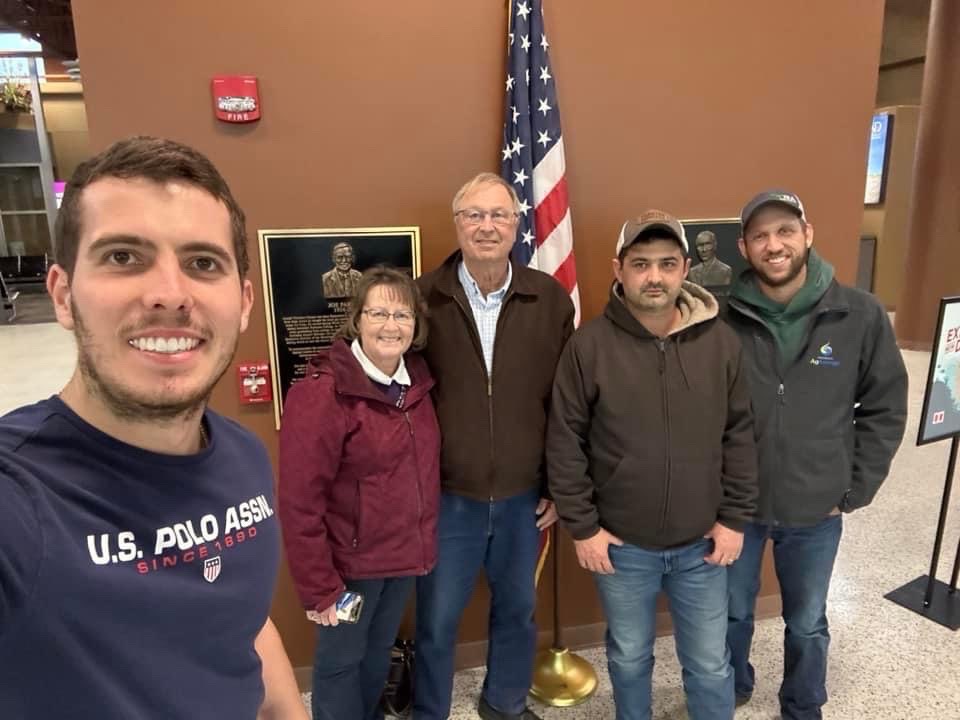 Upon graduating from the State University of Maringá with a degree in Agronomy, Pedro Henrique Maruchi Peres was eager to go abroad to gain more hands-on experience, learn a new language, and grow as an individual living away from his family in a new place. Pedro trained at McIlonie Family Farm in Pingree, North Dakota, United States of America, where he gained hands-on experience producing soybeans, wheat, and corn.
"The McIlonie Family is very important to me; the meaning of a united, honest, and hard-working family," Pedro shared. "They introduced me to new friends, different places, and their church. I learned about a religion different than mine, and I am very thankful for this. I spent most of the day with Bob McIlonie (70 years old), Brett McIlonie (38 years old), who is Bob's son, and with Mason McIlonie (20 years old), who is Brett's son. All of them worked at the farm and were people who helped me a lot and were very patient.
"It was an amazing experience living with people from other countries, Pedro shared. "I became a better person because once you live with people from other cultures, you start learning with them. You see things from a different perspective and become more humble. You have to immerse yourself in other cultures. That is the time you start learning much more.
I learned new technologies, tractors, mechanical stuff, how to work a dryer in grain silos, and was able to keep up with all the growth and development of soybeans, wheat, and corn. I learned amazing things with the McIlonie guys, mainly how to be organized and ready for anything. Just after the planting season, our shop burned down due to a mechanical failure. We had to get everything ready for the harvest season earlier and rebuild a new, workable shop. Each day I got home a little bit tired, but very happy and self-satisfied knowing that I was able to help McIlonies and also learn," Pedro shared.
Some of Pedro's duties on the farm included hauling grain by truck, mechanics, driving tractors and other machinery. "In the United States, it's easier to work because they have flatter ground which makes the machinery and implements bigger, resulting in faster work," Pedro shared. "They don't spray as many insecticides and fungicides as we do in Brazil because they have snow during the winter. Therefore, all of the insects and fungi die. Another amazing thing is that American farmers have government support in case of low production years. We don't have that kind of help in Brazil. The roads are always in good condition, which makes it easier for corn hauling.
The United States of America is a country that we have to try to be like because everything works good to help people. The infrastructure, roads, and towns are examples for us. It was nice to see how patriotic they are and how they love the country. I learned how honest, disciplined, and hard-working American people are. Even old guys work on farms! Another nice thing was that I lived in a safe place with honest people. I lived in the best place and worked with the best people."
Pedro's many fond memories from his CAEP experience include traveling to California, Arizona, and Nevada, where he saw the Grand Canyon, California beaches, and many casinos in Vegas. He also enjoyed having his parents visit him in North Dakota and show them the community he was living in. "We were able to buy a lot of clothes which were cheaper than in our home country," Pedro said. "The people that I met were funny with excellent hospitality. I was surprised with how organized and respectful the American people are. I liked how honest everyone was.
I recommend the program because the CAEP program can make our dreams come true. They are very competent and attentive with the trainees. My dream came true thanks to people who helped me: God, my family, McIlonie Farm, CAEP, AgroPeres, and friends. Thank you."
The internship program was the greatest learning moment of my life. The program was my dream, and my dream came true in the best way possible. I worked in the best place with the best people and I wish every host would be like McIlonies.
My best memory was when I realized how I improved my skills and was able to help them. The internship exchange program made me become a better person. I gained a lot of skills and learned another language; this is important for the rest of my life, not just for my resume.