What's on Your CAEP Bucket list?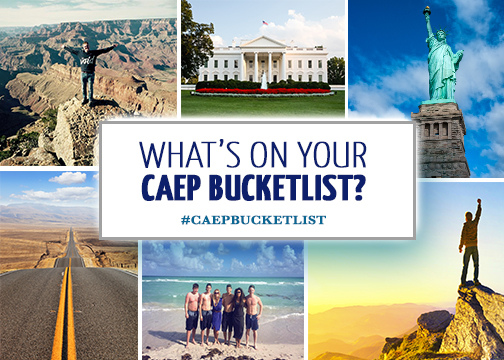 CAEP Participants,
First off, Happy New Year from your CAEP family! We hope you had a happy and exciting holiday!
Now is the time of year where you may be reflecting on the last and planning for a new, but where do you really see 2015 taking you? Will your dreams lead you on a new adventure? Will you achieve a lifelong goal and start striving for the next? What do you want to accomplish during your CAEP experience?
Now is your chance to let us help you achieve a new goal by participating in the "CAEP Bucket List Challenge."
But first- What is a "Bucket List"?
A "BUCKET LIST" is a list of things that one has never done before and wishes to accomplish in their lifetime.  CAEP would like to know what goals, activities, or destinations you have on your "Travel Bucket List" that you hope to accomplish during your exchange experience!
1. Record the goals or activities you want to accomplish, destinations you would like to visit, etc., during your CAEP experience on your very own CAEP Bucketlist. (Visit our Pinterest board or CAEP community if you need ideas!) Once you complete a bucket list goal…
2. Share a photo or video of your bucket list goal, tag CAEP on Facebook, Instagram, and Twitter and use the hashtag #caepbucketlist.
3. Blog about your bucket list goal on the CAEP community (don't forget to share photos and videos)!
4. Once you share your photo/ video and tag CAEP on Facebook, Instagram or Twitter and blog about your bucket list goal, you will be entered into the CAEP Adventure Bowl!  (The more goals you share and write about, the greater your chances are of winning!)
5. If you have any questions along the way, email social@caep.org,
CAEP Adventure Bowl
Drawings for the CAEP Adventure Bowl will take place in both June and December. CAEP will take the winner and one friend on a mini adventure in your area.
Get started on your own bucket list and share your life goals with friends and fellow CAEP participants.
Here are some ideas:
 ✔
Climb a Mountain
Car Show
Walk in a parade
✔
Wine Tasting
Ride in a speed boat
See a broadway muscial
Go to a Professional Sports Event
Visit a State Park
Program related Career Fair
Ride a horse
Visit an American History Museum
Visit the U.S. Space Center
Go to a Rodeo
Swim in the Ocean/lake
Roadtrip Across the USA
Skiing
Sky Diving
hiking/camping/tenting
Run a marathon
Las Vegas/casino
Surfing
Program related Expos
National Parks
✔
Shopping Malls
Tourist sights- Alcatraz
Theme Parks
Picnics/Barbecues
Brew Pub
Visit New York City
College sporting event
Go on a Cruise
Visit the U.S. Capitol
✔
Sailing
Fly-Fishing
Drive a Racecar
White-Water Rafting
To view more ideas and a list of American attractions, login to the CAEP Community or visit our Pinterest board!  Click here to download your very own CAEP Bucketlist  and get started today!!