Where Are They Now: Meet Richard Szabo From Hungary
Year after year, our team has the privilege of hearing the success stories of CAEP alumni. Alumni, like Richard Szabo, utilize their cultural exchange experience around the world to establish inspiring careers and make a positive impact in their communities.
Richard completed two enology harvests in California on a CAEP enology program. Additionally, he studied viticulture and oenology engineering at the Szent Istvan University in Budapest.
Below we discuss his adventures at Robert Mondavi Winery from our interview during his second harvest abroad in 2019.
Then, we catch up with Richard now to discuss his current career in his home country, Hungary, and his goals for the future. This year, he will accomplish his first personal harvest and he dreams to create his own brand one day.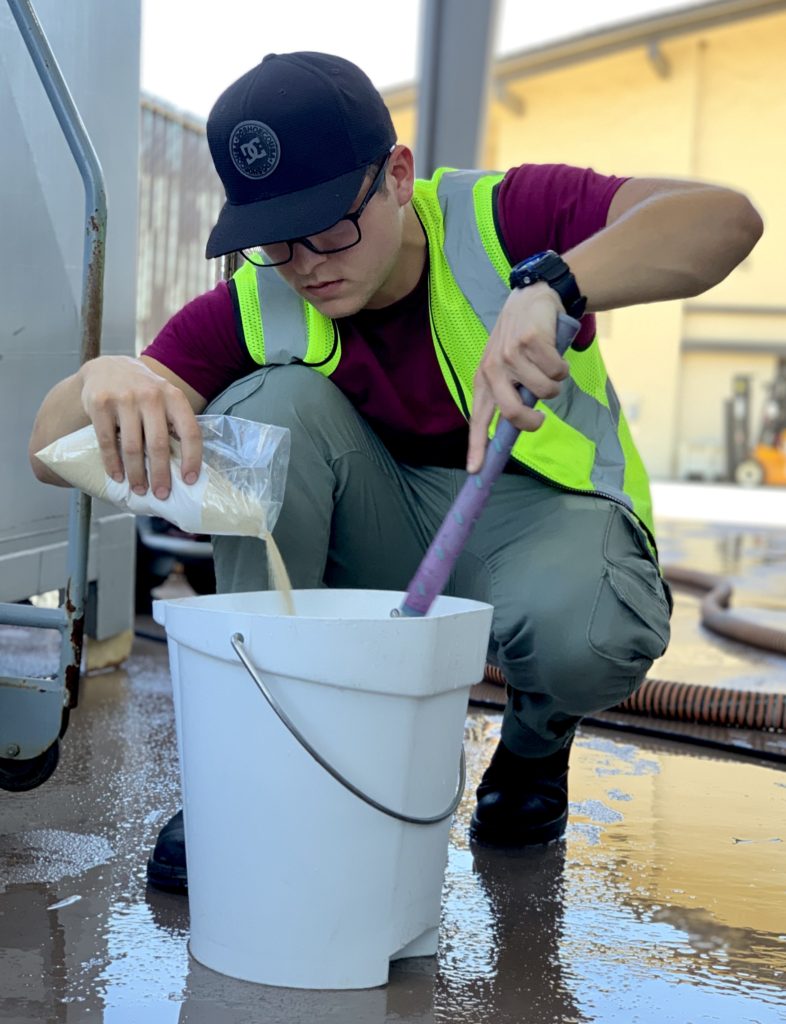 Life in the United States (November 2019)
Q. What inspired you to go abroad?
Richard Szabo: I think travelling abroad can open your mind about many things, you have the chance to explore a new country, a new culture.
Q. Why did you choose to pursue the enology program?
RS: I wanted to study about winemaking abroad, grow my knowledge with working in one of the most famous wine regions in the world. I did my exchange program at Robert Mondavi Winery, a place which has history and endless chance to study about this profession.
Q. What has it been like living with people from other cultures?
RS: It was amazing to experience their culture, the way of living, their traditions and how the everyday life is.
Q. What are your most favorite experiences in the United States?
RS: For me, the most favourite experiences are making friends from all around the world, have an amazing time together and enjoy the moment that we spend in a place far away from our home in order to study about a profession that we all chose.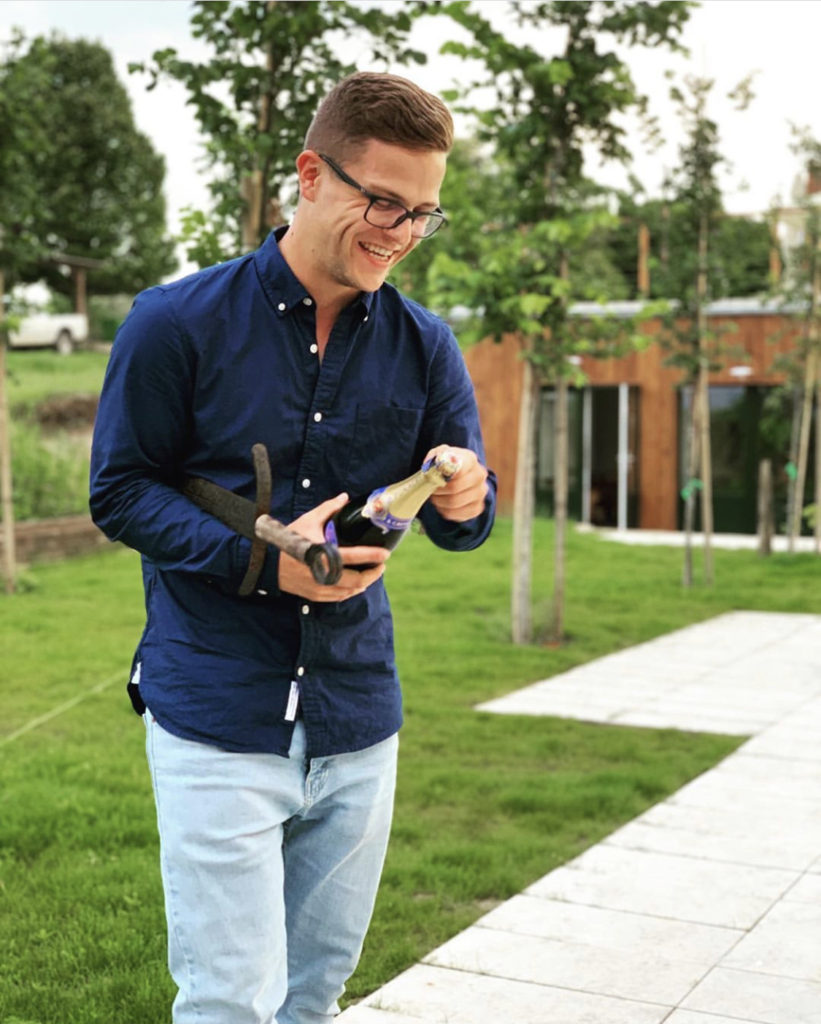 Q. Did you travel anywhere during your CAEP experience?
RS: I travelled to the Yosemite National Park, to San Francisco and Las Vegas, visited the Grand Canyon, New York and also explored Los Angeles.
Q. What do you think about the people, food, and culture?
RS: For me, it was very surprising how kind the people are here; they have a positive attitude from the early morning. The food is amazing. I love the American cuisine, but also enjoyed the chance to taste the traditional Mexican dishes since it is a big part of the food culture around this area.
Americans are more open than Hungarians. They are more friendly, helpful, and open minded. Even if they don't have that old history like other countries from Europe, they have traditions which I really enjoyed and took part of them!
Q. What is your favorite part about the United States?
RS: I really like how everything looks the same like in the movies. I enjoy the weather, the lifestyle, the culture and every day that that I spend here!
Q. Why do you feel exploring enology in a new part of the globe is important?
RS: You need to see how people work and think about the same profession. You can learn many useful things that can help you in your future and you can also meet a lot of people and make friendships for a long, long time.
Q. What do you think about the United States as a whole?
RS: It is a nice country, there are a lot of things to see, to do, to experience that I only saw before from the movies.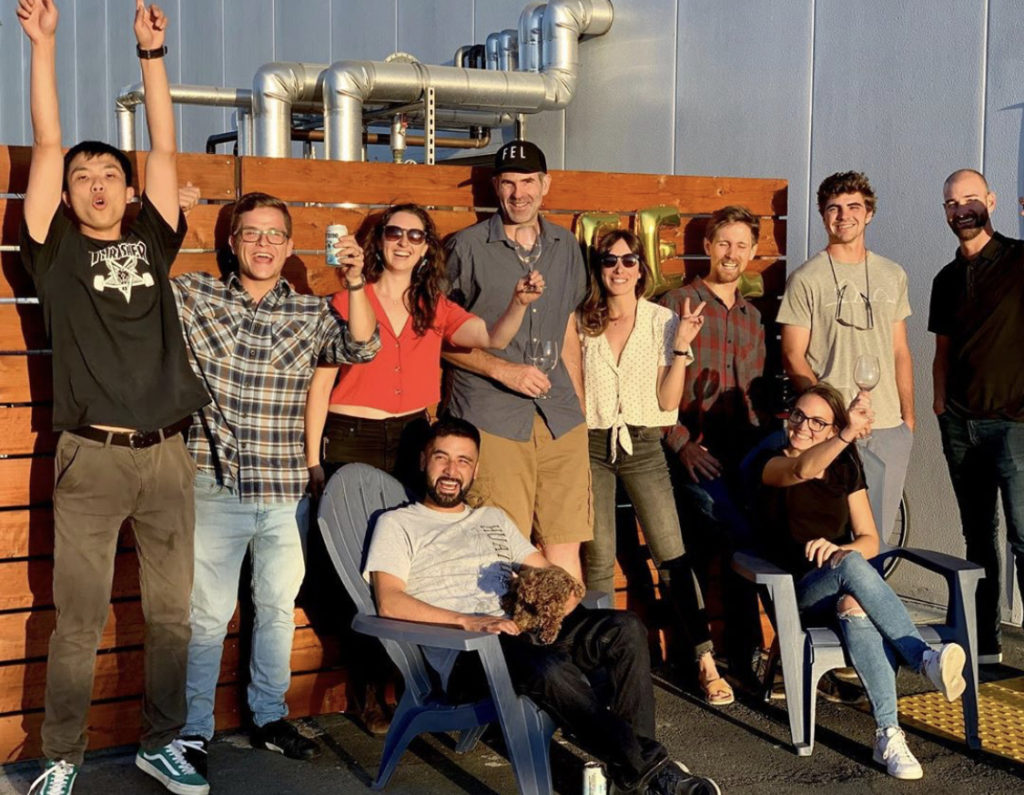 Q. What was the happiest moment of your entire experience?
RS: The happiest moment was my birthday. People that I met from my first harvest abroad said that they wanted to take me out on my birthday.
It felt so good that even far away from my family I could have a nice birthday and celebrate with amazing friends!
Q. Were you ever disappointed during your training experience?
RS: No, I was happy with everything!
Richard's Enology Experience Abroad (November 2019)
Q. Tell me a little about your host?
RS: Robert Mondavi Winery is a place which has a big history. I was excited to work there, because I knew I will get a lot of new information, hear different ways of thinking about winemaking and study new techniques.
Q. What have you learned from your host?
RS: I learnt how important it is to plan everything, organize all phases of the harvest and pay attention on every detail.
Q. Have you personally benefitted from participating in your CAEP program?
RS: I obtained my position as a small lot intern at Robert Mondavi Winery because I already had a harvest in Sonoma, California with CAEP. I am familiar with the equipment they use here, the requirements and the style of the wines they want to make.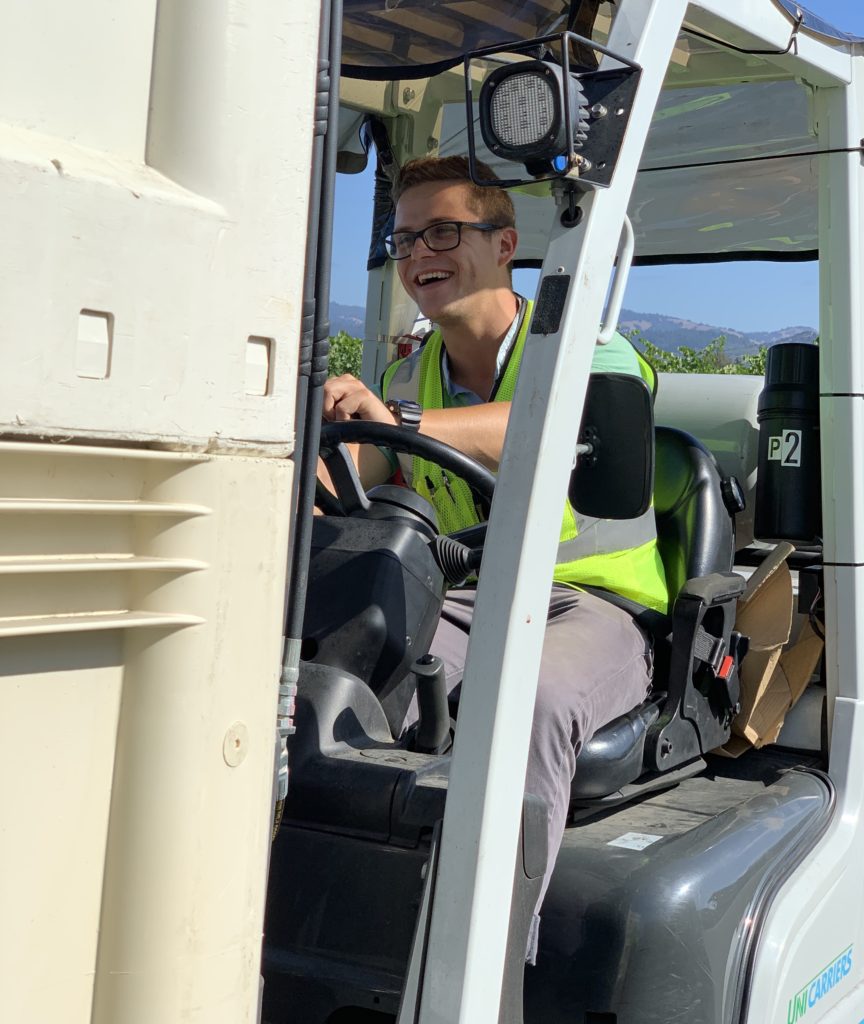 Q. Describe what a typical day was like for you during your training experience.
RS: I woke up a little before 4am every morning. We started work from 5am during the harvest, which was a little early and sometimes cold, but I enjoyed it every day.
In the morning, I started with sanitation of the equipment that I wanted to use. Made daily punch downs and pump overs, and monitored brix and temperatures many times a day.
Q. What were some of your daily duties?
RS: I was working with small lot wines where I needed to do punch downs during cold soaking, inoculations, additions, punch downs or pump overs during the fermentation, monitor brix and temperature, pay attention on the cleanliness of the equipment and the surrounded area too.
Q. How did you feel at the end of a day of your training?
RS: By the end of the days, I was tired but felt good. Day by day you could see the process of winemaking with the goal in the end. Such an amazing transformation, the colors and the smells, unbelievable.
Q. How is farming different in Hungary compared to farming in the United States?
RS: Because of the different weather conditions, they have difference in the vineyards, which makes a difference in the winemaking too. This also makes changes in the law of winemaking which was really interesting to see.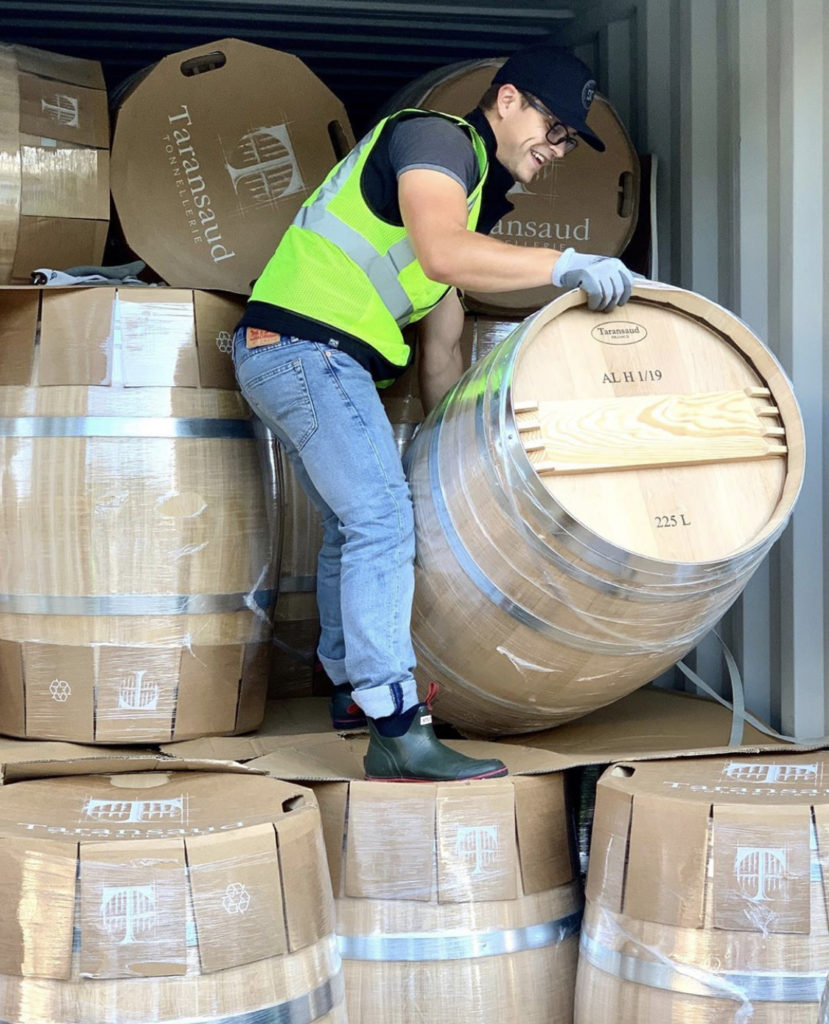 Q. Would you recommend CAEP to your friends and family back home?
RS: I would recommend, and I did recommend. After my first harvest in Sonoma, I went back to Hungary to finish my studies. Three students asked me how I felt, how hard it was to go for an international internship like I did.
I said the truth, that it was the one of the best times in my life, a lot to study, and a lot to see and explore. Now they are close to the end of it, happy that they came and experienced all that I was just telling them some months before!
I cannot tell you how amazing the decision was to take part of the CAEP program. I studied a lot, met many awesome people from a lot of different countries and had the chance to live in America for four months. I experienced the way of thinking, the way of living and the American culture!
How glad I am that I chose to do an internship abroad and to use the CAEP program which helped me a lot. I will always think about these times, some of the best experiences in my life happened in California!
Where He is Now (May 2020)
RS: Currently, I'm working in a small estate in Etyek, Hungary at Hernyak Birtok as an assistant viticulturist & oenologist.
I have the chance to take an overall look of every part of viticulture, oenology, finances, sales, marketing and hospitality. I also feel as a member of a team; even more I can say I feel as a part of the family. It is a family-owned winery.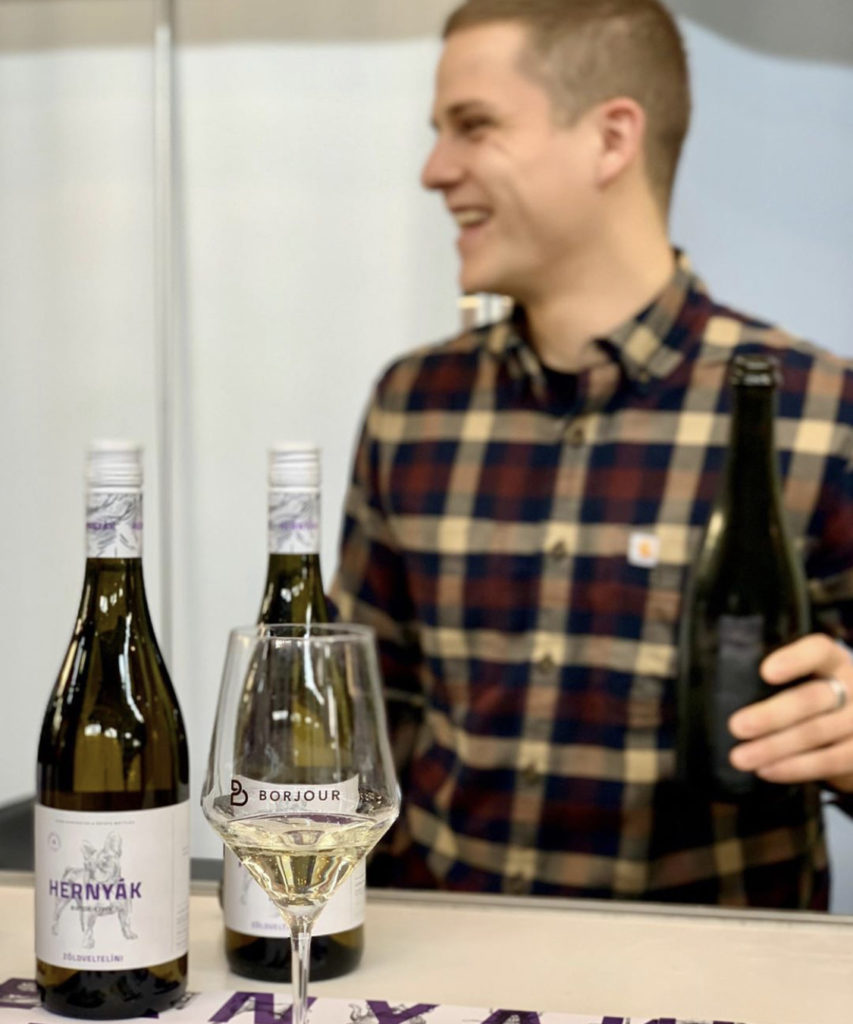 The winery has 6 hectares of vineyard, producing sparkling wine, Sauvignon Blanc, Chardonnay, Gruner Velteliner and Pinot Noir.
My main goal is to have my own brand where my focus would be on Chardonnay, Pinot Noir and sparkling wine using these varieties.
This year, I'll have my first own harvest and I'm planning to make 4 barrels of wine and ~500 bottles of sparkling. Since I have the chance to work on the fields where the fruit will come from, I'm super focused on a quality of the grapes that I'll use.
I have still in mind to travel and do some harvests. Places in my mind are Australia, New-Zealand, Champagne and Burgundy, and for sure I'll return to the US one day, but maybe this time I'd try the oenology business program!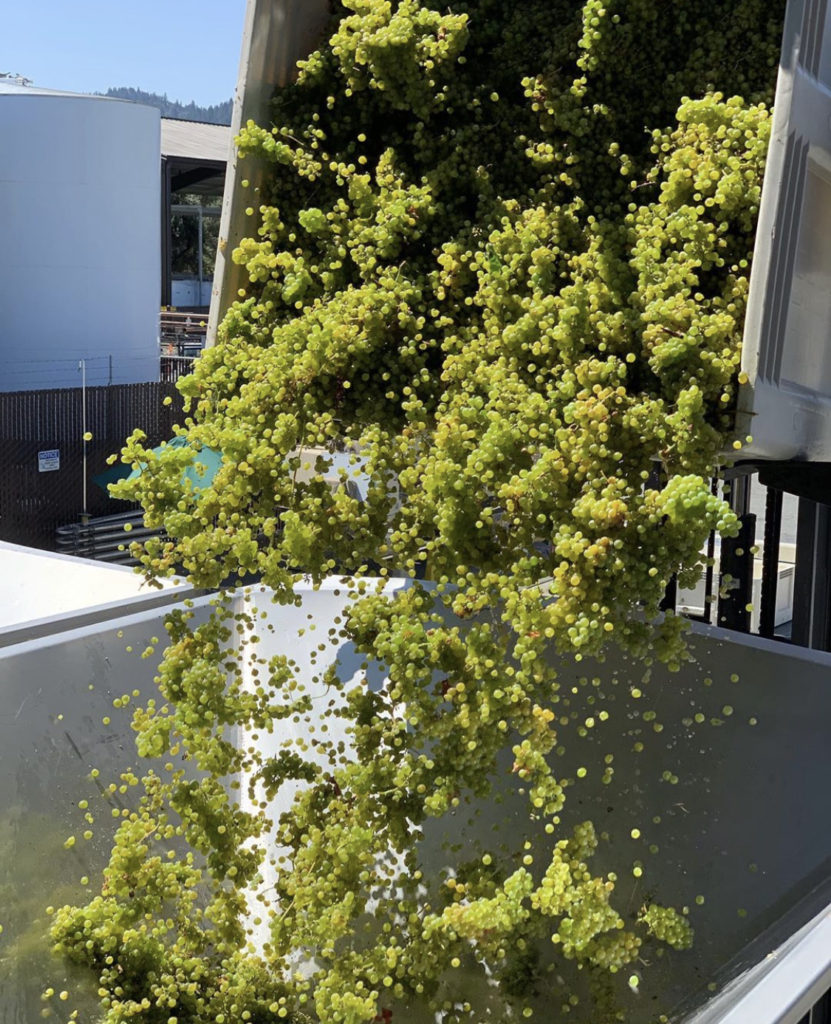 Follow Richard Szabo's passion of wine on Instagram at @hungarianwinemaker.
Interested in an international agriculture exchange program? Visit www.caep.org to apply and learn more! Travel. Earn. Learn. CAEP.